1. Mihajlović, Jasmina. Prilog za bibliografiju Milorada Pavića, Beograd, Prosveta, 1991, str. 231-305. (published separately and as part of a book: "Anahoret u Njujorku" in Sabrana dela, Beograd, Prosveta, 1990). (Content: list of all works by M. Pavic - belles-lettres, translations of literary, scientific and theoretical works, chronological bibliography of literary works published in newspapers and magazines and collected works 1964-1990, chronologically arranged literature on M. Pavic 1952-1990)
2. Lefebvre, François. Lectures du Dictionnaire Khazar de Milorad Pavic, Dossier de recherche présenté pour l'obtention du Diplome d'Etudes Approfondus, Angers, IX 1990; 43 p. (Directeur du dossier Mr Georges Cesbron).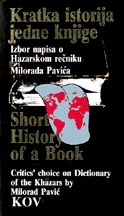 3. Kratka istorija jedne knjige; selection of articles on A Lexicon Novel in 100.000 words "Hazarski rečnik" od Milorada Pavića / Short History of a Book. Critics choice on a lexicon novel in 100.000 words "Dictionary of the Khazars" by Milorad Pavic (priredila Jasmina Tešanović), Vršac, Književna opština Vršac, 1991, 346 str.
4. Delić, Jovan. Hazarska prizma. Tumačenje proze Milorada Pavića, Beograd – Prosveta, Dosije; Titograd – Oktoih; Gornji Milanovac – Dečje novine, 1991, 317 str.
5. Leitner, Andreas. Milorad Pavics roman "Das Chasarische Wörterbuch". Eine poetische Signatur gegenwärtiger Bewusstseinsformen, Klagenfurt, Verlag Carinthia, Klagenfurter Universitätsreden, Heft 23, 1991, 44
6. Mihajlović, Jasmina. Priča o duši i telu. Slojevi i značenja u prozi Milorada Pavića, Beograd, Prosveta, 1992, 191 str.
7. Mihajlović, Jasmina. Biografija i bibliografija Milorada Pavića, Beograd, Godišnjak Srpske akademije nauka i umetnosti za 1991, XCVIII, 1992,str. 401-464.
8. Homann, Binja. Phantastik und Realität zu den schriftlichen Quellen in Milorad Pavics "Hazarski recnik", Marburg, Hausarbeit zur Magisterprüfung am Fachbereich 10 Neuere Fremdsprachen und Literaturen der Philipps-Universität Marburg, II 1992, 115 /+/ 1 S.
9. Sav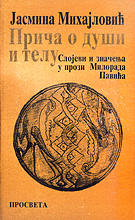 remena srpska proza (Pavić i postmoderna) 5, Trstenik, 1993 (1994″). (Miodrag Radović, Zoran Gluščević, Jasmina Mihajlović, Nikola Milošević, Aleksandar Jerkov, Mihajlo Pantić, Jasmina Lukić, Sava Damjanov, Dušica Potić, Milentije Đorđević).
10. Ehrlich, Edeltraude. Das historische und das fiktive im "Chasarischen Wörterbuch" von Milorad Pavic, Klagenfurt, Dissertation zur Erlangung des Doktorgrades an der Universität Klagenfurt, IX 1994, 202 S.
11. Mihajlović, Jasmina. Bio-bibliografija Milorada Pavića, (zasebno i kao deo knjige "Anahoret u Njujorku" u okviru Sabranih dela) Beograd, Draganić 1996, str.165-418. (Sadržaj: Biografija M. Pavića, popis svih knjiga M. Pavića, originali na srpskom; prevodi; hronološki sređena literatura o M. Paviću 1952-1995)
12. Pijanović, Petar, Pavić, Beograd, "Filip Višnjić", 1998, 407 str.
13. Vasić, Smiljka, Polazne osnove novije srpske proze. Knj. 2. Hazarski rečnik Milorada Pavića – frekvencijski rečnik, Beograd, Zavod za udžbenike i nastavna sredstva, Institut za pedagoška istraživanja, 1998, 840 str.
14. Babić, Sava, Milorad Pavić mora pričati priče, Beograd, "Stylos", 2000, 191 str.
15. Popović, Radovan, Prvi pisac trećeg milenija: Životopis Milorada Pavića, Beograd, "Dereta", 2002, 233 str, Službeni glasnik, 2009, Albatros plus, 2020. (dopunjeno izdanje)
16. Cvetanović, Ivan. THE SEARCH FOR THE MYTHICAL STATE OF INNOCENCE: THE MYTHOPOEIC DIMENSION IN THE NOVEL DICTIONARY OF THE KHAZARS BY MILORAD PAVIC, iUniverse, New York, 2006.
17. Zbornik radova, Pavićevi palimpsesti, Bajina Bašta, Fondacija Račanske baštine, 2010.
18. Olah, Kristijan. Knjiga - Bog. (Postmoderna) duhovnost u Hazarskom rečniku Milorada Pavića, Beograd, Institut za književnost i umetnost, 2012, 320 str.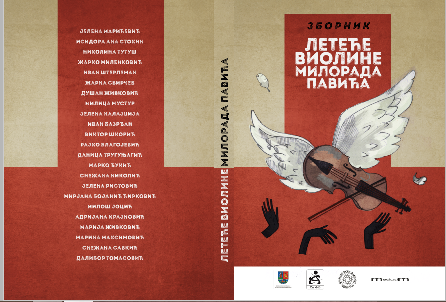 19. Leteće violine Milorada Pavića. Zbornik radova povodom trideset godina od štampanja Hazarskog rečnika Milorada Pavića, Novi Sad, Univerzitet u Novom Sadu, Filološki fakultet, Odsek za srpsku književnost i jezik, 2015.
20. Mustur, Milica. Die kritische Rezeption von Milorad Pavić im deutschsprachigen Raum. Dissertation, Universität Wien, Philologisch-Kulturwissenschaftliche Fakultät BetreuerIn: Bachleitner, Norbert, Wien, 2015, 417 str.
21. Terić, Marijana. Unutrašnja strana vremena (Fantastika u romanu "Unutrašnja strana vetra" Milorada Pavića), Cetinje, Fakultet za crnogorski jezik i književnost - Cetinje, 2016, 149 str.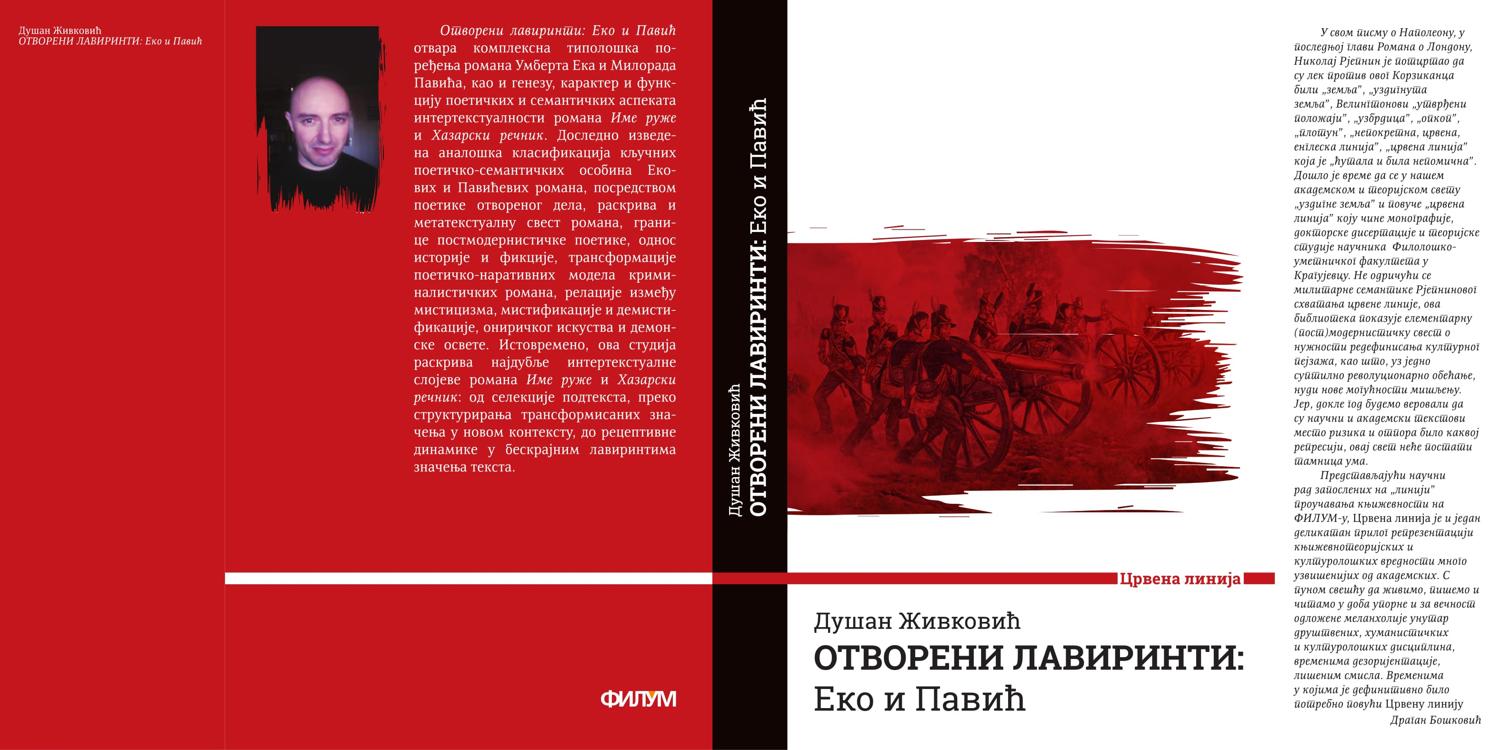 22. Živković, Dušan. Otvoreni lavirinti: Eko i Pavić, Kragujevac, Filološko-umetnički fakultet, 2016, 438 str.
23. Marićević, Jelena. BAROК U BELETRISTIČКOM OPUSU MILORADA PAVIĆA, Univerzitet u Novom Sadu, Novi Sad, 2016, 298 str. Pavić i film
24. Danyan, Chen. The Land of Dream Hunter (original title 陈丹燕. 《哈扎尔辞典》地理阅读, 浙江文艺出版社), Zhejiang Literature & Art Publishing, 2016, 288 str.
25. Đuričić, Aleksandar. Čuvarkuće - udovice pisaca, Samizdat B92, Beograd, 2017. (O M. Paviću, str. 54 - 73)
26. Danjan, Čen. Zemlja lovaca na snove - Geografsko čitanje "Hazarskog rečnika", Prosveta, Beograd, 2018, 228 str.
27. Milorad Pavić: Stanovnik svetske književnosti
(zbornik), Matica srpska, Novi Sad,
2019.
28. Pisci o Paviću (priređivač Mihajlo Pantić), Biblioteka grada Beograda, Beograd, 2019.
29. Milena Vladić Jovanov. Mala knjiga o Paviću: proza u svetlu postmodernih odlika i teorija: Pavić između postmodernizma i modernizma - Beograd : Skripta internacional, 382 str.
KNjIGE RAZGOVORA SA M. PAVIĆEM
Jevtić, Miloš. Razgovori sa Pavićem, Beograd, Naučna knjiga, 1990, 128 str.
Šomlo, Ana. Hazari, ili obnova vizantijskog romana. Razgovori sa Miloradom Pavićem, Beograd, BIGZ, Srpska književna zadruga, Narodna knjiga, 1990, 189 str.
Tanasis, Lalas. Milorad Pavić, Solun, 1997, 1-30 str.