Forever and a Day – Chamber theatre of city of Voronezh, directed by Michail Bichov, 2000 – Voronezh
Dictionary of the Khazars – Theatre Osobniak, directed by Alexei Sliusarchuk, 2002 – Saint Petersburg
Dictionary of the Khazars – Pandur theatres, directed by Tomaz Pandur, 2002 – Belgrade, Ljubljana
ТV feuilleton: Tomaž Pandur, Dictionary of the Khazars; RTS, Author Olivera Milošević; Directed by Ana Maria Rossi, 2002.
Dictionary of the Khazars – Pandur theatres, directed by Tomaz Pandur, 2003 – Novi Sad (Sterijino pozorje)
Forever and a Day – Moscow art theatre Chekhov (MHAT), directed by Vladimir Petrov, 2002 – Moscow
Dictionary of the Khazars – Multimedia show in Jewish temple , 2003 – Praha
Bed for Three – LENSOVET theatre, directed by Vladimir Petrov, 2003 – Saint Petersburg
Dictionary of the Khazars – Neue Akzente festival, directed by Dorothea Schroeder and Nina Guhlstorff, 2003 – Augsburg
Dictionary of the Khazars – 45 Bleecker Theatre, directed by Erica Gould, 2003 – New York
Bed for Three – Dramteatar, directed by Vitally Zakharov, 2004 – Prokopievsk
Forever and a Day – Nacional Theatre Bitola (Macedonia), directed by Martin Kochovski, 2004 – Bitola (Macedonia)
Forever and a Day (Завинаги и още един ден) – Rhodopean Drama Theatre "Nikolay Haytov" directed by Krasimir Rankov, 2006 – Sofia (Bulgaria)
Bathroom wedding – Pozorište na Terazijama, directed by Saša Gabrić, 2007 – Belgrade
Bed for Three (musical) – Company "Kras", directed by Maria de Valuhoff, April 2010 – Moscow
Mantia de Stele (Star Cape) – Teatrul Mic, directed by Nona Ciobanu, April 2010 – Bucharest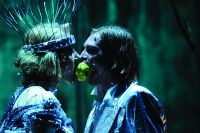 Petkutin i Kalina (Play Pavich) (Forever and a Day) – Pozorište Prijedor, directed an adaptation by Gradimir Gojer, May 2011 – Prijedor (Bosnia and Herzegovina – Republika Srpska)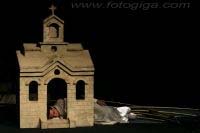 Triple bed, Radio Beograd 2, director Milan Jelić, adaptation Vladimir B. Popović, Belgrade, December 2012.
LEXICON-lite, female version-remix, Theatre Osobniak, Saint Petersburg, 2016.
Theatre Menu "For Ever and a Day"
Moscow Art Academic Theatre of Chekhov
The Moscow Theatre "MHAT", established by Stanislawski and famous for Chekhov plays, has prepared for the stage "The Theatre Menu" by Milorad Pavić, directed by Vladimir Petrov and translated by Natalia Vagapova.
World premiere, April 21, 2002
Dictionary of the Khazars
International co-production, directed by Tomaž Pandur.
World premiere, 2002, Belgrade-Ljubljana
DICTIONARY OF THE KHAZARS – performed by the International troop "Pandur Theaters", Belgrade, Ljubljana, Belgrade, 2002
ХАЗАРСКИ РЕЧНИК – представа у извођењу Интернационалне трупе "Pandur Theaters", Београд, Љубљана, Београд, 2002.
HAZARSKI REČNIK – predstava u izvođenju Internacionalne trupe "Pandur Theaters", Beograd, Ljubljana, Beograd, 2002.