MULTIMEDIA EXHIBITION "PAVIĆ FROM Z TO A" OPENED IN BELGRADE CITY LIBRARY
An exhibition entitled "Pavić from Z to A" was opened on Milorad Pavić's birthday, October 15th, to mark 90 years from his birth.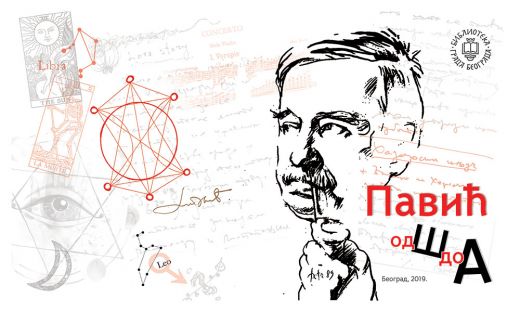 It is in the spirit of Pavić's books, composed of hanging mosaic letters - filled with pictures, texts by the author or about him, fragments from manuscripts...
The exhibition took about a year to prepare, and its authors, Isidora Injac, Sara Ivković Marković and Marjan Marinković, portray Pavić's life and work in bilingual and multimedia form, through a play of images and words. Digital processing of the presentation was handled by Snežana Rajković.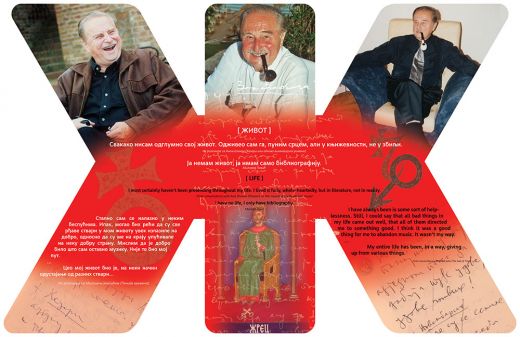 Visitors could listen to the author's favorite music (Bruch's Concerto), recorded conversations with Milorad Pavić, his wife Jasmina Mihajlović and son Ivan, leaf through the scanned manuscript of the Dictionary of the Khazars and a wealth of other material on the digital display. Video material will be accessible to all passers-by in Knez Mihailova Street as well, where the various translations of the title of this book will be projected in succession onto the sidewalk on the plateau in front of the library.
The exhibition was opened by the director of the library Jasmina Ninkov, Jasmina Mihajlović and Ivan Pavić.
VIDEO
Bratislav Kostić, Petroglyph Studio, www.petroglyph.rs
PRESS

Exhibition in honor of Milorad Pavić RTS 1
Milorad Pavić from Z to A POLITIKA
Multimedia exhibition in honor of great author: Pavić bridging epochs VEČERNJE NOVOSTI