EXHIBITION AT THE NATIONAL LIBRARY OF SERBIA
CELEBRATING TWO ANNIVERSARIES OF MILORAD PAVIĆ
(90th anniversary of his birth, 35th anniversary of the first publication of the Dictionary of the Khazars)
The exhibition/event at the National Library of Serbia was opened for Museum Night 2019, and is conceived on three levels.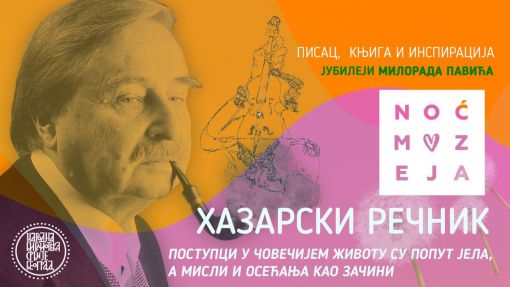 The first level exhibits attractive translations of the Dictionary of the Khazars, including bibliophile and unique editions, displayed in one location for the first time. Apart from books, visitors can have a look at Milorad Pavić's personal belongings and private photographs (thanks to the generosity of Milorad Pavić's Bequest). The second part is an overview of translations of this author's novel on a geotemporal map of the world – the covers of translations of the Dictionary of the Khazars projected onto a world map. The third part is a fashion collection inspired by the Dictionary of the Khazars.
The idea of the author of this exhibition, Nađa Stojković-Jovanović, in essence deals with the subject of Pavić and the Dictionary of the Khazars as an inspiration for other artists. To give the entire exhibition a bookish aspect, the impression of a walk through Pavić's book itself, illustrations by Bulgarian artist Jasen Panov were used, which he, inspired by the book, created over a period of twenty years.
The event is accompanied by music composed for the ballet Dictionary of the Khazars, by Miroslav Bako, while the author of the fashion collection is Nevena Ivanović.