Milorad Pavić's Bequest
Milorad Pavić's Bequest was established in 1992 by Belgrade City Assembly. It is situated in Belgrade, Dorćol quarter, in a home where Pavić lived with his wife Jasmina Mihajlović, also a writer. According to the contract and the Probate Decision, after his demise (2009), the legal guardians of the Bequest except the City Assembly, became Jasmina Mihajlović who will live in Bequest until her death and also Ivan Pavić – a painter, the son of a writer. After that, the ownership of the Bequest will be taken over by the City of Belgrade.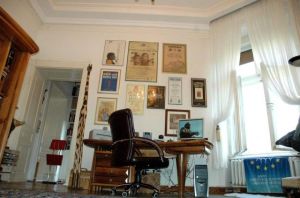 The Bequest as a legal concept implies that the researchers of Milorad Pavić's works have access to the complete material found in the apartment. Also, according to the agreement with the City Assembly, Bequest opens for the general audience during the European Heritage Days, held each year at the end of September.
In 2015th at the building where Bequest is located, the memorial bust dedicated to Milorad Pavić was announced – the work of the Russian sculptor Grigory Potocky. Bust is a replica of Pavić's monument located in Moscow in the Alley of the honorable citizens (atrium of the Library of Foreign Languages). During the Belgrade Day in Moscow (2017), a video-clip in 3D technique was especially designed for this manifestation: Days of Moscow, Milorad Pavic Bequest
See more:
Press Center of the Journalists' Association of Serbia
Avant Art Magazine